Answers
Apr 03, 2018 - 10:10 AM
Imaginary Forest Multimedia Group LLC was founded by Pittsburgh native James Frierson. With his unique storytelling abilities, Mr. Frierson is in the process of writing his first product self-titled after his company's namesake, 'Imaginary Forest'.
Order Merchandise from the upcoming book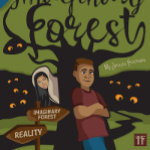 Imaginaryforest
'Imaginary Forest' (the book) is the first in a series of book projects which brings quality storytelling to life with the hopes of drawing you into a world of enchantment, magic, wonder and discovery. The story was created to shed some light on real-world issues such as bullying and overcoming life's obstacles in the form of entertainment. Aside from his literary works, his goal is to also produce high quality original content such as animated and live action movies which consists of stories of courage, love, loss, victory, defeat and achieving ones dreams. In his own words he says;
"Sometimes all we need is a little encouragement to ignite the fire burning deep within all of us. That fuel will spark a flame that will force you to go after what you truly want in life in order to achieve the highest levels of success."
The central focus of the company is to produce and distribute inspirational content and media such as
books, music (inspired by his first book series) animated and live action movies
along with other forms of entertainment. While his work was originally focused on children and young adults, he believes that his works are suitable for people of all ages. As the company grows, his hopes are to step into an even more emotionally driven space that reflect real life situations such as dealing with addictions, divorce (separation), coping with loss etc.The company is still in it's infancy stage (During the time of this writing April 3, 2018) and Is seeking to expand into other markets.Do you have a strong passion for excitement and adventure? Then open the doors of your mind and take a journey through your imagination to explore his interpretation of fictional life scenarios, fantasy and fairytales. It is his desire to both captivate and inspire you to be great.
You can pre-order a copy of his book at
http://gointotheforest.com
Please leave your comments so that we may make the necessary changes to make this a pleasant experience for all readers with the hopes of activating your imagination. Stay focused and be driven by everything you want to achieve in this life.